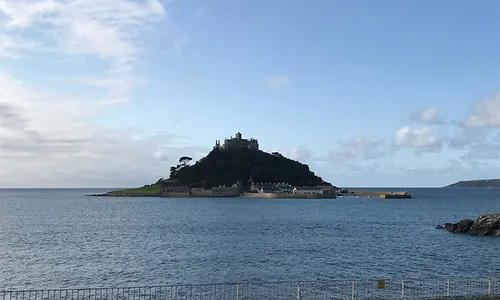 As a runner I'm so lucky to have the wonderful area of Penwith to run in, the other week I ran the St Michael's way route, it is a pilgrimage for me in December to do this run and my absolute favourite route to take as it incorporates, road, sand, cliff paths, lots of hills, fields, marsh and shingle and lots of thick gooey mud! So trail shoes are well and truly needed.
The day we ran was a true mixture of Cornish weather - we started with wind that took our breath away, with half rainbows dipping into the sea at Porthkidney sands. As we rounded the cliff to Carbis Bay there were raggedy cormorants flying below us on the cliff, looking like bin bags whisked up and tossed in the storm. As we approached Carbis Bay beach, a marvelous sight greeted us, there was about a hundred seals bobbing and rolling in the white surf, we all laughed as they were all physically distanced. What we thought was rain was in fact the northerly wind bringing us spray, very cooling after the cliff climbs.
Back onto the shelter of the cliff path and up and over the road to the Knills monument, what a climb! But great to see Holly wreaths decorating doors and dim enough for outdoor lights to twinkle in trees and bushes. Once we passed the steeple is where we encountered such thick mud that it pulled and sucked our trainers off, much tugging and laughing ensued in this activity, as you may have gathered, we are not fair-weather runners.
Onto green fields, steep hills, over and through streams that were running so fast with all the wet weather we have had, past bulls, sheep, and cows probably feeling bemused at the sight of us. Trencrom Hill and the incredible views of both our coasts and St Michael's Mount looking magical, sitting in a silvery sea. We could see a big weather front coming, so rushed on, as much as we could in slippery conditions, with buzzards circling above looking majestic. Part of journey of course is getting lost, and in doing so, we came across the unusual fungi, bright yellow on branches. It turned out to be yellow brain, what a fantastic name.
The final part of our run takes us down the side of Ludgvan Church and across the fields and two busy roads into the Pines trees roaring in the wind, and onto the very wet Marazion marshes. Where It was so incredibly green and waterlogged under-foot, suddenly we were out into the open, sunshine and the Mount greets us and at the station house we finish. Ten and a half miles run, in all elements and all terrains, good friends enjoying our very special landscape of Penwith.