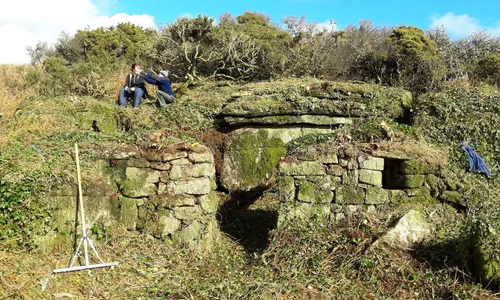 Part of my job as Ancient Penwith Officer is organising vegetation clearance in West Penwith on sites that have become overgrown by vegetation. As a result, some of these places have become hard to get to, sometimes forgotten or are at risk of damage from the scrub or bracken, the roots of which can disturb and damage underground archaeology and dislodge stones.
Apart from the sheer enjoyment, and sometimes excitement, of rediscovering these sites, some of which have been inaccessible for years, it is incredibly satisfying knowing that we are helping to conserve them through our efforts. Richie and his crew of volunteers have spent the winter months doing a great job on several sites, and now we can get to them once more we will be carrying out surveys, taking record photographs and generally monitoring them for any damage that might have occurred over recent years. Photos and drawings should appear on our website as we complete them.
We don't plan on a single clearance visit and then done approach, once cleared we will spend the next few years keeping them clear and discovering more about them as well as promoting these sites to visitors in the hopes that more people can enjoy them.
All the sites we visit have been identified as at risk of damage or loss or in need of a bit of TLC, the best job in the world for an archaeologist and a conservator to explore, bring to light and help preserve some of the less well known sites in the area as well as a few old favourites.
This season we have been clearing Goldherring Iron Age courtyard house settlement, Sperris round house settlement, Lower Cranken Giants house, Bakers pit barrows and Rogers tower.
Aside from the volunteer clearance a few sites need a little more oomph than sturdy hand tools can provide so we use local contractors to make the first push, these sites are Bakers Pit Banjo enclosure, Castle an Dinas Hillfort and post medieval farmstead at Tregerthen, Zennor.