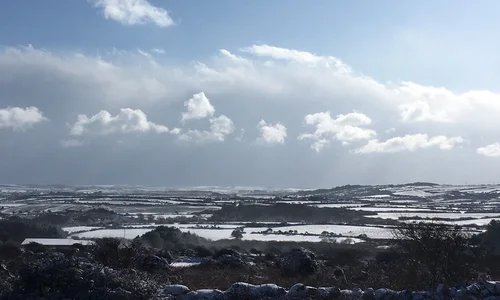 Tony from our Para Kernewek is sharing some great Kernewek (or Cornish) vocab to add a local flair to your Christmas dinner! Promoting, recording and celebrating the use of Cornish in Penwith is a key aim of our Taking Names project.
Boos Nadelik - Christmas Food
Before you jump to conclusions, boos is actually Cornish for 'food' not 'drink'! But you could put some booze into a traditional hobbyn figys kernewek - Cornish figgy hobbin. This makes a lovely, lighter alternative to the usual podin Nadelik – Christmas pudding.
If you are decorating your tesen Nadelik – Christmas cake - why not write Nadelik Lowen on it? Oh! And remember that the traditional Cornish gwedhen Nadelik - Christmas tree - is not a conifer (which was a Victorian invention) but a kelynnen or holly bush as you might know it.
Pastigow brewgig are, of course, mince pies but the traditional Cornish pie eaten at Christmas is hogenn hern lagasek - Star Gazy pie. It was the night before Christmas and all of West Cornwall was starving because of a failed harvest that year. A terrible storm blew up and only Tom Bawcock of Porthenys – Mousehole – went out and came back with with a bumper catch of seven sorts of pysk - fish. The people were so hungry that they didn't bother to cut the heads off but immediately baked the fish in a pie. The heads stuck out of the crust and appeared to 'gaze at the stars'. But hopefully today we can be a little better prepared and make pastigow brewgig a bit before Nadelik.
Of course, once Nos Nadelik – Christmas Eve – starts to gently slip into Dydh Nadelik - Christmas Day – then both children and adults (yes, and adults!) will be excitedly looking out for Tas Nadelik – Father Christmas – on his draylell – sleigh – pulled by a team of karow ergh – reindeer. And will there be a ro Nadelik - Christmas present – put in your lodrik – stocking ?
What's more, should you decide to enjoy a seasonal drink with family &/or friends (within current social guidelines of course!) then will it be gwin tomm – mulled wine – or maybe a pyment – spiced wine? However, if the weather forces you on to something a little stronger like dowr tomm frynkek – brandy – we hope you will all still raise a glass of 'whatever' and wish each other 'Yeghes da' - 'Cheers' – whilst also having fun finding a use for the ughelvarr – mistletoe!
So, Gorhemynadow an Seson – Season's greetings – to you all and we trust an enjoyable, yet also restful festive season, will have been had by you all... and now, the final Yuletide tiding... Nadelik Lowen ha Bledhen Nowydh da! – Merry Christmas and Happy New Year!
(Finally, if you want to bring blas a Gernewek - a taste of Cornish - to your dinner table, then why not utilise some of the names of these kon Nadelik hengovek - traditional Christmas dinner - elements listed below. And who needs kracker Nadelik – a Christmas cracker - when it would be so easy to adorn your table with your own bilingual labels, thus helping friends / family to navigate the 'seasonal festive landscape' laid out before them? Omlowenhewgh! Enjoy yourselves!)
'Kon Nadelik hengovek' 'Traditional Christmas dinner'
Yar Gyni Turkey
Stoffyans Stuffing
Mogh yn lennow Pigs in blankets
Selsik Sausages
Backen ha kesten rostys Bacon and roast chestnuts
Kowligow Brussels Sprouts
Avallow dor rostys Roast potatoes
Karetys rostys Roast carrots
Panes rostys Roast parsnips
Ervin Turnip
Fav Beans
Pys Peas
Melyssandys Desserts
Trifel Trifle
Hogennow brewgik/brewvos Mince Pies
Podyn Nadelik Christmas Pudding
Tesen Nadelik Christmas cake
Dehen / Dehen molys Cream / Clotted cream
Dehen rew Ice cream
Bord keus Cheese board
Gwin tomm / Pyment Mulled wine / Spiced wine
Dowr tomm frynkek Brandy