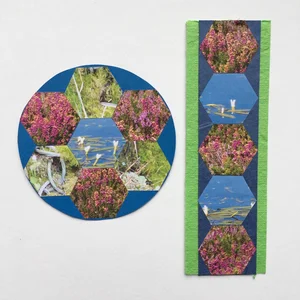 Sue Kinley has shared another great family art activity for you to try as part of our Seeing the Landscape project:
Mosaics and stripes – how to have some creative fun with your photos of the wonderful West Penwith landscape.
You could take some new photos, and print a couple out on plain paper, look out old photos that can be cut up, or look through old magazines for images. I combined my photos with coloured paper, to make contrasts and pick out some of the colours in the landscape.
You also need to cut a shape out of cardboard that you can draw around – I used a hexagon [a regular 6 sided shape] and a diamond shape. Triangles also work well. I traced these from the pattern sheet that you can download here.
Once you have cut out a few shapes out of the photos and plain paper you can play with repeating patterns, sticking the individual shapes down on to a backing sheet with a glue stick when you are happy with the results. If you don't have coloured paper, you could paint some, inspired by your images, maybe contrasting warm [reds, yellows, oranges, browns] colours with cool ones [blues, greens, greys].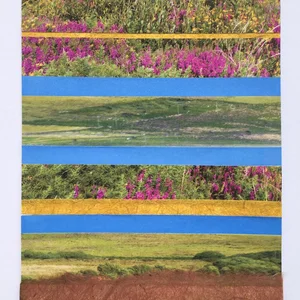 I also used photographs and coloured paper to make collaged stripes by cutting strips of different widths out and sticking them down to make a repeat pattern. This is a simple but effective way of transforming the landscape into your own artwork – you could make a poster for your wall, or stick strips on to postcards for small presents and to make your own cards. My blue came directly from the sky, and I used plain yellow to pick out the colour of gorse.
Try and make some with photos taken at different times of the year! Autumn and winter might not be quite as bright as summer, but there are still some lovely subtle colours to find. On my last walk I found a striped empty snail shell, and some lovely orange rust on old gates and roofs of farm buildings.