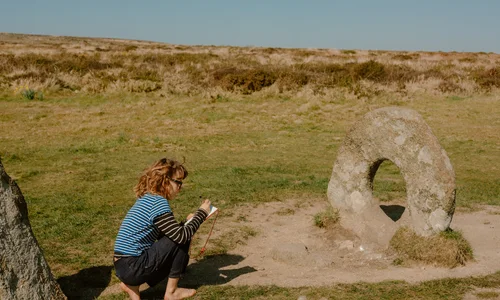 What's beneath this bright blue Penwith Sky?
What makes this place so special?
What makes it special to you?
We're very pleased to announce our Penwith Circle family walks being held this summer, with four walks being held daily from 8th to 11th August 2022 at 10am.
Guided by our free magical map & book of clues crafted by Phyllida Bluemel and Rebecca McDonald, we'll be joined by a different expert every time.
These walks are for all the family, but aimed particularly at children and explores the ancient landscape around the Mên-an-Tol.
Spaces are limited for each walk and need to be booked in advance. Please click on the walk dates and details below to link through to the booking page for each one - you'll also learn more there about where to park and what to bring. Bookings for the walks will end at midnight on 6th August 2022.
8th August - Walk led by Laura Ratcliffe-Warren - archaeologist and standing stone whisperer
9th August - Walk led by Nick Taylor - Ecologist and nature lover
10th August - Walk led by Carolyn Kennett - archaeo-astronomer who knows the secrets of ancient sites aligning with the stars
11th August - Walk led by Nick Taylor - Ecologist and nature lover
Image by Jenna Foxton