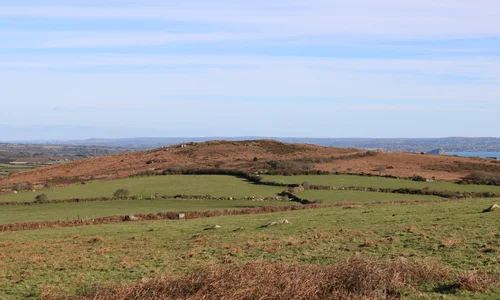 While it is our work out in the Penwith landscape that is the most noticeable, a great deal of work goes on behind the scenes managing the Penwith Landscape Partnership's work. Those who follow us on social media will have seen just some of the photographs that we have taken and collected. As well as stunning shots of the Penwith landscape, we also collect photographs recording ancient sites, Cornish hedges and other landscape features; images of access paths across Penwith; a photographic record of the work of our volunteers; and photographs documenting our work on farms and out in the landscape. We also take photographs at our events - from training courses to volunteer celebrations. It is a rare week when no images are added to our extensive photographic archive, although we weren't able to collect quite so many photographs in 2020 as in previous years.
Even with slightly less photographs in 2020 though, our photographic archive is already very extensive - as of the most recent count we have 11,335 images on record! For the photographs to be useful for our staff and stakeholders we need to be able to find images when needed, and as such careful organisation is required to manage the collection. To aid us in this we use a Digital Asset Management Asset System (known as a DAMS for short). This acts as a type of virtual photograph archive - it allows us to store all the images in folders by date and location, but it also allows us to add index terms to enable us to locate images quickly. Common index terms are which of the thirteen projects the images most relate to, which parish they were taken in, and of course the subject matter (options include plant names, types of ancient sites and many more!) As such if anyone in the team are looking for photographs of a particular ancient site or wildlife species it just takes a quick key word search. Our system also automatically indexes the images by their predominant colour - although unfortunately the most common colour in our collection is grey! (That's partly down to our granite stone as well as our misty or mizzly skies!)
Other benefits of using this system includes easy sharing of images, whether through sharing links with others to prevent the need to have to send large email attachments (who hasn't spent ages waiting for a large image attachment to load over a slow internet connection?) but also with our website - this is particularly helpful for our galleries, which are curated collections of images within the system. This allows us to share a large group of images without making the website load more slowly.
Our photographs are not just a record for our own use though - they are an important legacy of our of work, and a lasting record of Penwith and our impact here.