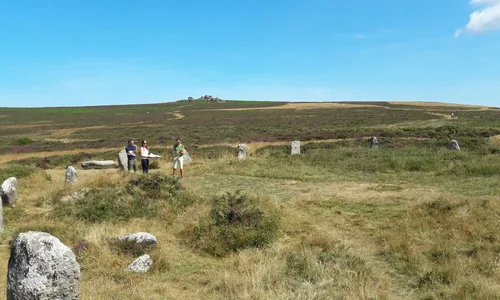 The summer holidays are upon us, and to make the most of the summer season the Penwith Landscape Partnership have a number of suggestions for activities you can do.
Try our trails
We have a number of trail guides available on our website. Each of these guides takes you through an area of Penwith, taking in a number of ancient sites, wildlife habitats and spectacular views along the way. By following the trails you are also minimizing the driving between sites, helping to reduce the traffic on our roads in the busy summer months. You can find all our trail guides by clicking here.
Join one of our family art workshops
If art is more of your thing, then you can join one of our free family art workshops taking place throughout the summer holidays, inspired by the Penwith landscape. From murals and Cornish hedge artworks, to printing and weaving you can try a range of artistic techniques to explore the beauty of our landscape. Click here to see the details of the workshops - but they are filling up fast so please book as soon as you can!
Volunteer with us
If you do have some spare time this summer, why not join us as a volunteer? We offer regular volunteer sessions, during which you can visit and help care for wildlife habitats, ancient sites and access paths across Penwith. However, there are a range of volunteer roles also available, including archival research and helping us with local landscape character assessments. For more details on volunteering with us, click here.
Enjoy our YouTube channel
Of course, not everyone might be able visit the Penwith landscape this summer. If that's the case then explore our YouTube channel, where you can find videos and playlists on a range of subjects connected with the Penwith landscape. Click here to start watching today, and why not subscribe while you're there?
In all our events and volunteer sessions the health and safety of our attendees and staff are paramount, and as such they are run with this in mind.
If you are visiting Penwith this summer, please respect our landscape as well as the wildlife and people that call it home. Keep to access paths, take any rubbish home with you, and give livestock some space (including keeping any canine companions under control near them too).
We hope you all have a lovely summer!