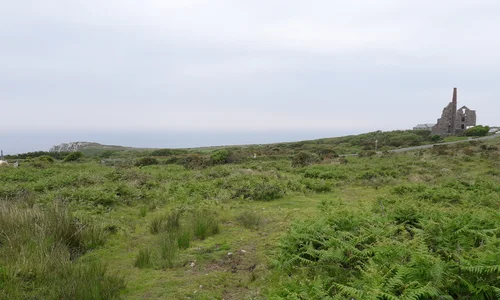 It's Halloween season, and that makes it a perfect time to learn more about some of the ghostly tales of Penwith – and we're bursting at the seams with spooky stories. Below is a compilation of some of the tales we've previously shared on our social media, but there are lots more! We'd love to hear any of your ghost stories from Penwith.
The numerous mine buildings still in the Penwith landscape seem to some like the ghostly reminders of this once thriving industry. Mining itself was a dangerous occupation, and it's no surprise that many superstitions grew around the mines as a result. Black goats and white rabbits seen around mines were considered ill-omens, but one particularly creepy ill-omen was if a phantom miner's hand followed a miner up or down a ladder - it was seen as a sign of misfortune or even death to follow.
Woon Gumpus common has a strong claim to the wildest place in Penwith - at least in folklore terms! It has been linked with witchcraft, unwary walkers are prone to becoming disorientated as a result of being pixie led, phantom lights have been seen and associated with ghosts, and even the devil himself is said to hunt the souls of nighttime visitors by chasing them down on a half-starved horse!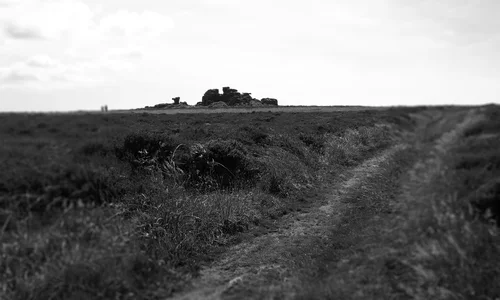 Overlooking Woon Gumpus is Carn Kenidjack - known as the 'hooting' carn, this site has been linked with ghost stories and even glimpses of the devil, including one tale where two miners inadvertently became spectators of a demon wrestling match! Whether or not you encounter the devil, on a windy day you can hear the hooting sound the Carn has become known for, caused by the wind blowing between the stones.
It used to be a Cornish tradition that moths were the souls of those who have passed on. They were also called piskies (presumably due to a local belief that the pixies were the souls of those who weren't bad enough to go to hell, but not good enough to get to heaven).
Penwith's coastline is also the location of many ghostly occurrences. You would assume that most ship's journeys stop when they reach the coast, but that's not the case with the ghost ship of Porthcurno. Seen off the Penwith coast between Land's End and Penzance, the ship sails into Porthcurno cove - and then keeps going over the beach! It typically finally fades away once in sight of St Levan Church. Misfortune is said to follow those who see the ship.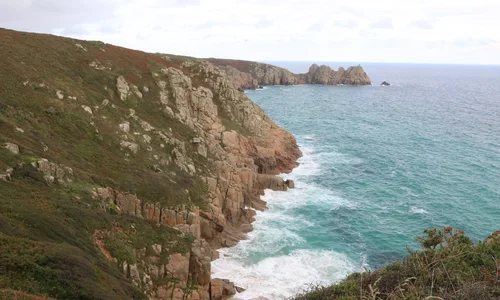 Jan Tregeagle is probably Cornwall's most notorious sinner- a wicked man in his lifetime, whose ghost is linked with many sites throughout the Duchy. In order to keep his soul busy until judgement day Cornwall's priests set the spirit a number of seemingly impossible tasks - one of which brought him to Penwith, weaving a rope from the sand on Gwenvor Cove. The tale of what happens next varies greatly, but some versions of the story still have his spirit in Porthcurno or Tol-Pedn, now set the task of sweeping all the sand into the sea - and you can hear his ghostly soul wailing in frustration as each tide deposits more sand on the land...
If you've ever seen a lady in grey wandering the cliff-tops carrying a rose, then you might have encountered the ghost of Pendeen. This lady was engaged to a smuggler who she promised to marry if he brought her a rose on Christmas day, but she really liked a local Navy captain and informed him of the smuggler's movements. The result was a fight between the two that left them both fatally wounded, and now the lady's ghost wanders the clifftops holding a rose in penance.
Penwith's older historic sites also have their fair share of spirit activity. Did you know that the Kernewek, or Cornish, for Sperris Quoit is Coyt Sperys? 'Coyt' means Dolmen or stone table, while 'Sperys' means spirit or ghost. This location is certainly atmospheric, and if anyone knows what ghost is linked to Sperris we'd love to hear about it!
If you visit Castle-an-Dinas at night you might encounter the ghost of Wild Harris of Kenegie - a local Lord who was killed after being thrown from his horse (which was said to have been spooked by the ghost of a maiden crossing its path in the form of a hare!). After his untimely death, the Lord's spirit often appeared around Gulval terrifying the local residents, until a Parson settled his ghost by giving him the task of counting every blade of grass within Castle-an-Dinas nine times - keeping the restless soul occupied for years to come.
Trencrom Hill has long been associated with myths and legends, stories tell of the spirits of the Iron Age inhabitants stalking the hill at night, whereas Spriggans protect the hill's alleged treasure - and while some describe these as fairies, others believe these are the ghosts of the giants that once lived in Penwith and who are still protecting their home.
Penwith's hamlets see their fair share of hauntings too, including the story of the tragic lovers of Boscean. The start of the tale is familiar- two young people fall in love, but the boy's parents disapproved and packed him off to sea to prevent a marriage. One night some time later the girl heard her lover's voice calling for her, and without thinking joined him on horseback, not knowing he had been killed at sea. She soon discovered she was riding behind a phantom, and one wild ride and dramatic rescue by the St Buryan blacksmith later, her lover's spirit fled back to his grave in St Buryan churchyard, and she died the following day of a broken heart.
If you've ever heard unexplained children's laughter in the woods near Lamorna, you might be hearing the spirits of two local children, who in the Medieval period went missing while collecting nuts near their home. Their father, a Crusader in the Holy Land, saw a vision of their spirits while away, and when he came home he ordered the millpool drained – where the skeletons of the two children were discovered, still holding hands. Since then they have been spotted and heard wandering paths and roads in the area.
We're ending on two more unusual ghost tales, including the story of a ghost that saved himself! In 1794 Thomas went missing on a path from St Just to Sancreed late at night, and he was presumed robbed and killed. However, eight days later his friend saw a figure resembling Thomas circling a mine shaft. On approaching the figure vanished, but Thomas himself was found in a nearby pit - very much alive! Was it a friendly ghost or Thomas' own spirit seeking help? No one knows.
Finally there's the tale of the Whooper of Sennen - a sea mist that made whooping sounds that used to appear unexpectedly around Sennen. It's said that that mist would come in when a storm was coming, protecting sailors by preventing them setting sail into such dangerous conditions. However, one day two sailors beat a path through the mist and set sail regardless - and neither they nor the Whooper were ever seen again. Some people think the Whooper was a friendly spirit, others that it was a different type of entity. Other stories from this area include the ghostly ringing of a bell in the churchyard of Lyonesse, a sunken land off the coast of Land's End towards the Isles of Scilly; and the ghost of Annie George, former landlady of the First and Last Inn, who was staked out to drown in the incoming tide after providing evidence against smugglers in the area.