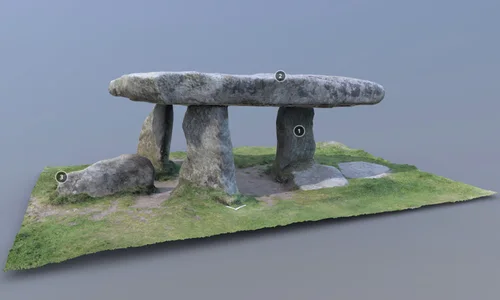 One of the great pleasures of the Ancient Penwith project of the PLP programme of work is shouting about some of the extraordinary (and also ordinary) sites and monuments in West Penwith. Aside from vegetation clearance, and improving access routes, one of the ways we are doing this is through the vehicle of digital media. Largely via our website, the PLP Virtual Landscape Hub, we are hoping to showcase and waymark sites and landscapes within west Penwith using photographs, 3D models, digital surveying and drone footage.
Starting this summer we will be beginning to make digital records of some of our sites specifically to hopefully give people a flavour of Ancient (and not so ancient) West Penwith and its amazing history. As well as just giving people a taste of the site and offering a cheeky peek at some of the less accessible places, the images and records are being used to enhance the County Historic Environment Record and ultimately help us all to manage the heritage of West Penwith better. As times change, archaeological records are moving with them and being able to make a visual 3D models of a site is a great way of taking a snapshot of its form as well as condition when a simple photograph doesn't always quite manage the job.
One of our first projects was to get 3D photogrammetry models made of four sites that we felt would make interesting but also useful records. We teamed up with Tom Goskar of the Curatorial Research Centre based in Penzance and are delighted to be starting to share these models with you. The first two are Madron Baptistry:
and Lanyon Quoit:
3D technologies have been used in archaeology since the 1980s, and it's always been a fast-moving area. Archaeologists have always been great at taking techniques used in other industries and recognising how they can be used to help better understand or communicate the past to wider audiences. 3D scanning began in the 1980s in the engineering sector to help reverse-engineer engine parts, and to help oil rigs remove and replace components with minimal disassembly. The colours and surface enhancements that we use to make 3D scans look 'real' are technologies developed for CGI – Computer Generated Imagery – in the movie and computer games sectors.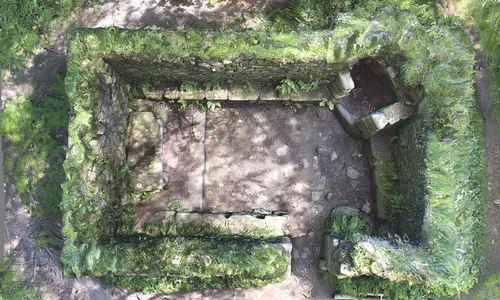 The 3D scans of Madron Baptistry and Lanyon Quoit (and soon, a couple more) are, first and foremost, a highly detailed archaeological survey of the sites. I have captured, using a process called photogrammetry – which has its origins in 19th century stereo photographs, or stereograms – that uses not two but often many hundreds of photos. Specialist software and a fast computer helps us to create millions of discrete measurements that form a sort of 3D dot-to-dot 'cloud' representing real points on the physical monument. We call these 'point clouds'. Here, each point is, on average, just a millimetre apart from the next one, covering every visible surface. The model of Madron Baptistry, for example, contains over 200 million measurement points.
This means that we have a highly detailed record of these monuments (or at least, the parts of them not covered in beautiful wildflowers!). We can create scaled plans, elevations and cross-sections from them. We can measure even very small distances, and study the surface of every visible stone if we wished. It is a great record for the future of the site's present condition.
The realistic models that you can see on your computer, tablet or phone are almost a by-product of this detailed 'point cloud'. Here, we reduce the complexity of the measurements, and literally join the dots to form a surface made from thousands of triangular faces. It's a sort of shrink wrapping process. We then project the colours from the photographs onto the surface, and use some CGI tricks to show the high resolution detail on our low resolution web-ready model to make it appear more detailed without slowing your phone or computer to a crawl.
We upload our models to Sketchfab, where they join many thousands of 3D models from other cultural heritage organisations. If you download the Sketchfab app to your phone, you can even experience our models in Augmented Reality (AR) – put Lanyon Quoit onto your dining table and explore it in miniature, or even outside, full size on your own lawn. It's not as good as visiting the real thing, but if you can't visit due difficult access, or perhaps you are self-isolating because of the pandemic, then this can help you to get a sense of the monument in a more meaningful and interactive way than photographs alone.
3D scanning allows us to record, study, teach, communicate and tell stories about the past. It is a terrific archaeological and curatorial tool that will continue to evolve and present us with new opportunities.
If you would like to find out more about 3D scanning monuments hop over to a more detailed blog post on the Curatorial Research Centre website.