Photography for Beginners - Part 2
Friday 30th August 2019, 4:00pm to 8:00pm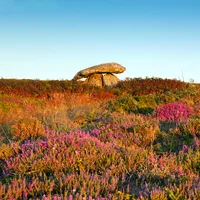 ***Please note: This event is now fully booked. You can still use the form to register your interest in case we have any cancellations***
Penwith Landscape Partnership is looking for some budding new photographers to take stunning pictures of Penwith and our projects. This photography workshop is a two part session looking at wildlife and landscape photography. This second session on 30th August will take place at Porthcurno during the 'golden hour' before sunset and will focus on landscape photography with one of the most breath-taking views in Penwith (and some say the world!), overlooking Logan's Rock.
This follows the session on Friday 23rd August will include an indoor workshop at Sancreed Village Hall looking at techniques that will improve your photography whether you use a phone, compact camera or an SLR. In the afternoon, the small group will head to Bartinney and put the skills you have learnt into practice. (To book on to the first part of the course please click here).
There are only 8 places and we are looking for candidates who can volunteer their time to take pictures for the project. Priority will be given to volunteers who have already committed their time and can make both sessions. Beginners are welcome.
Image courtesy of David Chapman
Register
Address
Porthcurno