Walking Weekend 2019 - 18th-19th October Day 1
Friday 18th October 2019, 1:30pm to 3:30pm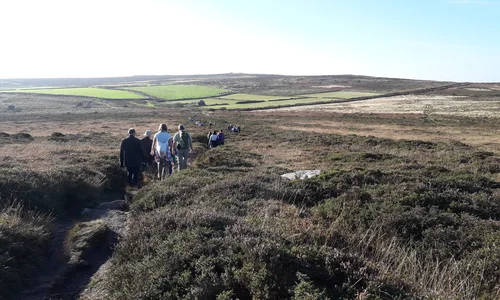 After the success of last year's event we are pleased to announce the return of the Penwith Landscape Partnership Walking Weekend this year on 18th-19th October. Join us on free guided walks across the Penwith landscape, exploring it's unique heritage and wonderful views.
On Friday 18th October we will be offering the following walk:
1.30pm-3.30pm - Morvah, Tregaminion and Chypraze
Visiting Tregaminion Chapel and Well, recently excavated by PLP volunteers, then a walk along the coast path, visiting the Chypraze Barrow, returning inland above Portheras Cove.
Meet by Morvah Church, at the start of the public footpath (TR20 8YT / SW402354). This walk is 2 miles with one steep descent and a gradual climb. Please NO DOGS, we will be passing as a group through fields with cows.
Permission has been given to park in front of Tregaminion Manor Farm, but we'd encourage using public transport from St Just if possible.
No booking is necessary- please just turn up at the meeting location. We ask that you arrive ten minutes before the advertised time to allow the walk to begin punctually. Please ensure you wear sturdy footwear and appropriate clothing to keep you warm and dry.
If you have any questions regarding the event please email PLPinfo@cornwallwildlifetrust.org.uk or ring 01736 805300.
We will be offering two free walks on Saturday 19th October as well- please click here for more information.
You can also keep up to date by following us on social media- Facebook, Twitter and Instagram.
Address
Meet by Morvah Church