Do you have an idea for a project in Penwith? Do you need some funding? Read on for more information on our community grants.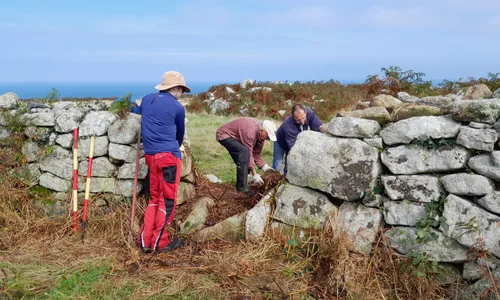 The Penwith Landscape Partnership community grants scheme is for groups and organisations who create positive and lasting change for the people and landscapes of Penwith. We are interested in hearing from you if you deliver activities within any of the following areas:
Ancient Sites
Access
Arts influenced by the landscape (visual and performing)
Community archaeology
Cornish Hedges
Cornish Language
Digital Heritage
Ecology
Farming
If you have an idea for funding get in touch with the PLP Programme Manager at victoria.hole@cornwallwildlifetrust.org.uk and we can arrange to discuss your idea before you make an application.
Examples of previous funded ideas have been building a footpath bridge, funding for wildflower seeds, creating ponds, buying equipment that helps to protect or record wildlife, training for heritage skills, repairing Cornish Hedges, funding for wildlife experts to lead training and workshops, helping important heritage sites remain part of our future. If your idea is similar or completely new we are keen to hear from you.
Grants are available up to a value of £3,000, with no lower limit.
All projects must meet at least one of the following outcomes:-
A wider range of people feel more connected to Penwith
Heritage is identified and better explained
Wildlife is enhanced, protected and conserved
Peoples' skills are developed
Peoples' wellbeing is increased
The deadline to apply is Monday 12th December 2022.
Projects need to be started before June 2023.
Eligibility
The grants scheme is open to registered charities, constituted community groups and other charitable organisations including social enterprises and Community Interest Companies Limited by Guarantee in England.
National organisations with local branches (with their own management committee and bank account) can apply.
New organisations that can demonstrate they are financially robust can apply.
What we will fund
Projects that take place within the West Penwith Landscape Partnership area.
We will consider projects that take place outside of the Landscape Partnership area, but that are clearly related to it.
Projects that are for public benefit and not for private gain.
Projects that take account of relevant law and other statutory requirements.
What we won't fund
Existing staff posts or organisational costs.
Repairs to your own home.
Legal and/or statutory responsibilities.
Promoting the causes or beliefs of political or faith organisations.
Recoverable VAT.
Costs for any activity that has taken place before a grant is awarded.