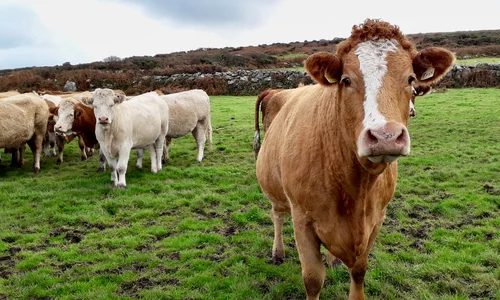 Farming and Wildlife
The Penwith Landscape Partnership are pleased to be able to offer a range of information, training and support for farmers. Five of our thirteen projects focus specifically on farming, particularly supporting work that enhances the rich biodiversity of Penwith. These include:
The Cornwall Wildlife Trust act as lead partner for much of this work.
Grazing Management - Reduce input costs and increase Profit!
We are very excited to have contracted the services of Precision Grazing, whose managing director James Daniel has already begun working with two local farming businesses to create dairy and beef demonstration units. He has already held a discussion group meeting in Nov 2019 (see blog entry 09/12/2019).
If you are interested in improving your profit through grazing management and creating a resilient business you can get in touch with James – call him on 07534 930484.
West Cornwall Grassland Society
The West Cornwall Grassland Society has been in existence for over 50 years, and meets at the Queens Hotel in Penzance for a Winter programme of talks (talks run Oct-March on the 3rd Monday in the Month, meet at 7.30pm for 7.45pm start). During this past season the Society had a range of speakers covering subjects such as regenerative agriculture, pastures for life, and grassland machinery. They also typically hold one or more summer evening farm walks, and in the past have visited a robotic milking herd, a farm with an anaerobic digester for power generation and a farm breeding pedigree Aberdeen Angus stock bulls. The Society has approximately 50 members and are always keen to encourage newcomers. If you are interested in joining please contact Phil Pengelly on 07562 117499 or Edward Richardson on 07775 667825
For more information on our work with farmers, and how we may be able to help you please contact:
Phil Pengelly, Farm Environment Officer: Ring: 0797 6731376 or email philip.pengelly@cornwallwildlifetrust.org.uk
Nick Taylor, Ecologist and Penwith Hedges Officer: Ring: 0797 6703923 or email nick.taylor@cornwallwildlifetrust.org.uk