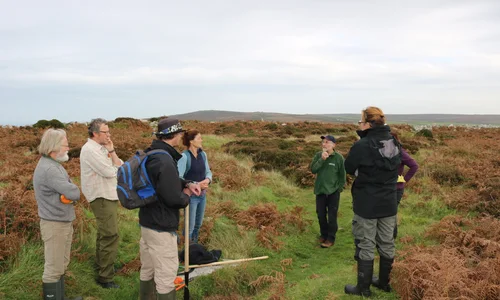 Prag na ombroffyowgh gans an Keskowethyans Tirwedh Pennwith?
Why volunteer with the Penwith Landscape Partnership?
The volunteers for the Penwith Landscape Partnership have an opportunity to make a substantial difference to the unique Penwith landscape - they can clear and improve knowledge of our ancient sites, help maintain and improve access paths, support biodiversity and local conservation efforts, repair and maintain Cornish hedges, and even improve our knowledge of local use of the Cornish language and folktales.
A diverse group of volunteer activities are available, covering a wide range of interests and abilities. These include:
Practical outdoor tasks – The Practical Tasks Officer leads a number of open volunteer sessions. Groups carry out a whole range of tasks including: clearing ancient sites of vegetation, repairing and maintaining Cornish hedges, creating and restoring wildlife habitats as well as improving and managing public rights of way.
Wildlife Surveying - There are opportunities for volunteers to undertake species surveys, such as butterfly and bird counts, botanical surveys and habitat assessments.
Archaeological Surveying – Volunteers have the opportunity to be trained to undertake archaeological surveys of some of the ancient sites across Penwith.
Research - We have two main research projects in which you can get involved. The first focuses on archaeological sites and finding information and historical records. The second project involves researching old place and field names. We want to ensure these records are kept for future generations by archiving reliable material.
Landscape Character Assessment - We would like volunteers to get involved in carrying out Local Landscape Character Assessments of parishes within the PLP area. These surveys look at the features within each parish to identify all the heritage aspects that make the landscape special and interesting - for more information visit the That's Our Parish project page.
Other volunteer opportunities might become available - for details on upcoming volunteer tasks and opportunities make sure you keep checking our events page, or follow us on social media (Facebook, Twitter or Instagram).
Benefits
As well as providing invaluable support to Penwith, its landscape and community; there are a number of benefits to volunteering with the Penwith Landscape Partnership:
Free Training - Those attending our volunteer task days are always provided with the tools and training they need, and we also offer several other training courses for our volunteers to build skills - some of which lead to recognised qualifications. As such volunteering can boost your skills and work experience. Our training courses are very popular and spaces are limited, and our current registered volunteers are given the first opportunity to book on to courses before details are released to the general public.
Volunteer celebrations and activities - We hold an annual celebration for our volunteers near Christmas and also arrange other activities for volunteers to take part in, for example our volunteers were able to have a free guided tour of Chysauster Settlement.
Time Credits - Volunteers have an opportunity to join the national Time Credits scheme, where in exchange for volunteer time you can receive credits that can be used to access places and activities around the UK for free.
Get outside and get fit - For those volunteers taking part in our outside tasks you get to visit stunning locations in Penwith (including some of which are not typically accessible to the public), and get some great exercise outdoors too.
Meet new people - Volunteering provides an opportunity to meet fellow like-minded volunteers at volunteer tasks and training sessions
Lots of support - The Volunteer Coordinator, Practical Tasks Officer and the rest of the PLP team are here to support you throughout your time as a volunteer with us.
We are always happy to welcome new volunteers, so if this sounds good to you register as a volunteer today. If you have any queries regarding volunteering please contact Chandelle at chandelle.randall@cornwallwildlifetrust.org.uk