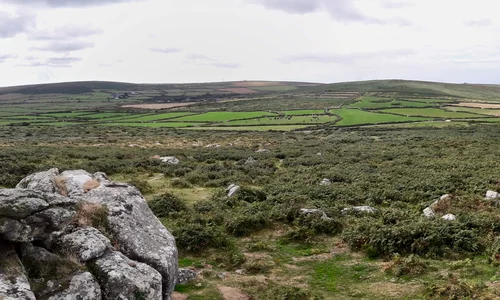 Kesstrif art Hyns an Stenoryon
Tinners' Way Art Competition
The Tinners' Way is an ancient trackway that crosses the Penwith landscape, from the area around St Just to the port of St Ives. It is thought that the trackway was used to transport tin and copper from the mineral-rich areas around St Just to sheltered anchorages on the coast, where it could be shipped to other locations. Following high ground across the Penwith landscape, the Tinners' Way passes close to over twenty ancient sites, crosses farmland and moorland, provides stunning landscapes and scenery, and gives an opportunity to explore Penwith through its heritage, folklore and place names. To learn more about the history of the Tinners' Way, view our StoryMap by clicking here.
To celebrate the Tinners' Way and its part in Penwith's heritage, we're launching an art competition! There is one competition for adults with different categories (see below), and a separate one for children to create a design for our waymarkers that are going to be placed out in the landscape (click here for more details). Artworks submitted could be inspired by the Tinners' Way itself, the sights and features seen on the route, its wildlife, history, or folklore – let your imagination run free!
Adult Art Competition
For adults aged eighteen and over we have three categories in which you can enter your artworks inspired by the Tinners' Way. The categories are:
Photography
Following on from the success of our Outstanding Penwith at Night and Penwith Hedges photo contests, we are pleased to offer another opportunity to showcase your photography skills. All photos should be taken on the route of or in the close area of the Tinners' Way, but you can take your photograph of whatever inspires you on the way – we want to see what you love about the Penwith landscape! With your photograph we'll ask you to specify whereabouts it was taken.
Visual art
Painting, drawing, sketch or sculpture… In fact, any form of visual art apart from photographs! We would like to see what inspires you artistically on the Tinners' Way route. It can be as true to life or as abstract as you like. With your artwork we'll also ask you to share a paragraph on what your artwork is representing in the Tinners' Way, and why you chose that subject. We can't wait to see what you come up with!
Written word
The Penwith landscape has inspired countless writers over the years, and we hope it can inspire you too! Be it a poem, short story, or play, we want to read your creative submissions sparked by the Tinners' Way. With your piece of writing we'll ask you to submit a covering paragraph explaining what about the route prompted you to put pen to paper. We do ask that written entries are a maximum of 1000 words.
How to enter
All entries should be submitted by email to hello@penwithlandscape.com by midnight on the closing date of 29th October 2021.
For the photography and written words categories, entries should be submitted as an email attachment – for the photographs in jpeg or png format, for the written word either Word or PDF.
For the Visual Art category please submit either a scan or photographs of your piece art. If a video would display this in the best light please post your video online and send us the link.
When submitting your entry please also attach a submission form, to confirm that you agree to the terms and conditions of the contest – these can be downloaded below by clicking here. Please ensure that you fill in the correct form for your chosen category.
Tinners Way Photography category entry form
Tinners' Way Visual Arts category entry form
Tinners' Way Written Word category entry form
After the competition closes, each category will be judged by a panel of judges. The winners will be informed by 17th December 2021.
Prizes
For each category there will be prizes for First, Second and Third Place, in the form of vouchers from the Edge of the World Bookshop in Penzance.
First Place wins vouchers worth £100
Second Place wins vouchers worth £50
Third Place wins vouchers worth £25
The top three entries in each category will also be highlighted on our social media channels and website, and will also be included in our Seeing the Landscape exhibition to be held in late summer 2022.
There will also be up to five entries awarded highly commended in each category, who will be included in an online gallery on our website.
Competition rules
See below for the competition rules. They can also be downloaded here.
All artworks must be entirely your own work, and you must legally hold the copyright to them.
All entrants must be aged 18 or over. (Younger artists are invited enter our children's artwork competition instead.)
Entrants can enter up to three images for our Photography category, and one entry into our Visual Arts and written word categories.
Please ensure you enter by the closing date of midnight on 29th October 2021. Entries received after this time will not be eligible for the contest.
All entries are to be sent by email to hello@penwithlandscape.com. Please do not send original artworks by post.
To prevent our email system from rejecting your entry when you send it, the email size may be no larger than 10 Megabytes. If it is larger than this then please send images separately.
For photographs, to be eligible for the competition, your photograph must be taken with a sufficiently high-resolution camera (we recommend at least eight million pixels). Your image must be printable able at 300dpi at A4 size (210 x 297mm). Please save your picture as jpg format at the highest quality setting which will create a file size of approximately 3.5 megabytes per picture.
We will make no claims to the copyright of your artwork, you will retain copyright ownership.
You give your permission for the Penwith Landscape Partnership and its partners to publish your reproductions of your artwork on our websites and through digital media; and to use them without charge to promote the competition, the Penwith Landscape Partnership, or the Penwith landscape; in leaflets, magazine and newspaper articles (produced by third parties), and other forms of publicity at our discretion. If your artwork is used in this way you will always be credited as the creator.
To support this you give Penwith Landscape Partnership (and their partners) a non-exclusive, worldwide, royalty free permission to; use, copy, modify, translate and/or adapt, distribute, publicly display by any means and in any media and create derivative works of, and copy, and distribute such derivative works of your artwork.
If there are any people in your photograph or artwork that are recognisable, you must obtain their permission for the pictures (or their parent's / guardian's permission if under 16) to be entered into the competition and used for the purposes described above.
To accompany your artwork please sign and return the correct submission form for your category which can be downloaded above, that warrants sole creatorship of your artwork, and confirms you have read and understood the competition rules.
For photographs, you declare that if your photo has been digitally manipulated you will supply details of the processing method- see further detail on the submissions form.
For entries in the Visual Arts category, you confirm that you will make the original artwork available for exhibition as part of our Seeing the Landscape exhibition in late summer 2022. You will however retain ownership of your artwork and can exhibit it additional exhibitions if you so wish. Reproductions of the winners in the Photography and Written Word categories will also be included in the exhibition.
Any personal data submitted as part of entering this competition will only be used for the sole purpose of administering the competition and keeping a record of the entries, and will be stored securely.
Winners will be determined by a panel of judges for each category. The judges' decisions are final.