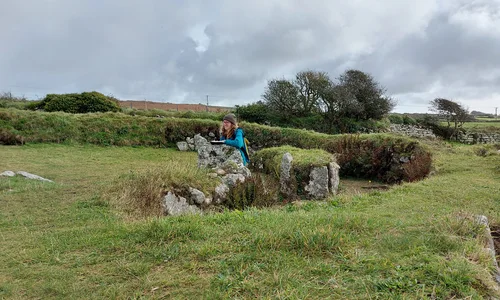 Artys ha Bewderyow
Art and Activities
One of the aims of the Penwith Landscape Partnership is to encourage everyone to interact with the Penwith landscape and its heritage in ways they might not have originally thought of. To support this, our Seeing the Landscape project encourages interacting with the Penwith landscape through art - following in the footsteps of many artists who have been inspired by this area of Cornwall. And many of our other projects have fun activities coming up - from Cornish Hedge activity packs, to archaeological trails.
On this page we will be highlighting our work with art and activities - including forthcoming events such as exhibitions and workshops, our photographic and artistic competitions, and activities you can enjoy at home.
Artistic Events
Seeing the Landscape: Perspectives of Penwith Exhibition, St Just Miner's Chapel, 16th - 27th August 2022
Our Seeing the Landscape project has been focussed on encouraging everyone to engage with the Penwith landscape through art and creativity with workshops, exhibitions and competitions.
Seeing the Landscape: Perspectives of Penwith is an exhibition that celebrates the creativity that has resulted from the project. At the heart of display will be artworks showcasing and celebrating a Year of a Cornish Hedge by local artists Amanda Richardson and Sara Bevan. Their work highlights the beauty of these historic structures, and their importance to the Penwith landscape. Also on display will be works by local artists created as a response of a walk through Penwith to Carn Euny, top entries from our artistic and photography competitions, and the creations of families who participated in our family art workshops.
The exhibition will be set against the magnificent backdrop of the Miner's Chapel in St Just and be open daily on 16th - 27th August inclusive (opening times will be 10am - 4pm Monday - Saturday and 12 noon - 4pm on Sundays). The exhibition will be free to enter and there's no need to register, just turn up when you fancy!
We hope everyone will want to join us in celebrating the Penwith landscape, and how it has inspired creative souls through its beauty.
Location details: The Miner's Chapel is on Chapel Road in St Just, just a couple of minutes walk from the centre of town. Free parking is available in the car park on LaFrowda Close, and public toilets are available here too. St Just is also well served by buses from Penzance and St Ives, and we'd encourage you to use this option if possible as the town can be very busy in the summer. There are many pubs, cafes and shops where you can buy refreshments, however please do not bring any food or drink with you to the exhibition to protect the artworks.
We hope to be running some other activities alongside the exhibition - check our website and social media channels for more details!
Art and Photography Competitions
Love Penwith and have an artistic side? Then enter one of our art or photography competitions! Below are details of any competitions that are running, and also information on past competitions.
Current competitions
We are thrilled to be able to announce the winners in our Tinners' Way Art Competition for adults! Amazing entries in photography, visual arts and written word were entered and scooped prizes. To find out who won and to see galleries of the entries click here.
Past Competitions
Here are details of the past artistic competitions we have held - follow the links to find out more and view galleries of the top entries.

Activities
We are pleased to be able to offer a number of fun activities related to the Penwith landscape that everyone can take part in at home.
Hedge Activities
As part of our Cornish Hedge week we now have a number of fun filled activity sheets, which can help all the family learn more about Cornish Hedges - to view and download the Activity Pack go to our Penwith Hedges page.
Family Art Activities
Sue Kinley has devised for us a number of family friendly art activities you can complete at home, inspired by the Penwith landscape - click on the links below for step by step instructions.
Artistic Commission - A Year of a Cornish Hedge
Artists Amanda Richardson and Sara Bevan have been commissioned by us to artistically record a year of a Cornish Hedge, showcasing the changing of the seasons, and the beauty and biodiversity of these important and historic structures. You can find out more about them and their work for the commission on our blog - click here to read.
Past Activities and Events
Mousehole School photographs of Sancreed Beacon and Tony's Wood exhibition
In March 2020 children from Lugger and Schooner classes at Mousehole School spent a morning out on Sancreed Beacon and in Tony's Wood to explore these through photography. The children were provided with cameras and told they could photograph whatever they liked, and that we would then exhibit a picture chosen by them – allowing everyone to see the landscape through their eyes. Each child has now chosen the picture they most want to share and explained in their own words why it is important to them. Large prints of the images and the children's words were on display at the Solomon Browne Memorial Hall between 7th-17th June. However, even though the exhibition is now closed, the children's images and texts can also be viewed here on our website - click here to find out more.
Seeing the Landscape - Artists' Impressions of Carn Euny exhibition
In the Autumn of 2020 a number of artists joined Mayes Creative on walks through the Penwith landscape to the ancient settlement of Carn Euny, to learn more about and be inspired by this historic place as part of our Seeing the Landscape project. The participating artists went on to create stunning art works as a result, celebrating the beauty and heritage of this unique landscape. In June 2021 we were able to share some of these art works with visitors to Sancreed Village Hall, a true showcase of how Penwith can be interpreted through art. We will be sharing some of the art works that took part in the exhibition here on our website very soon!
Share your creations with us!
Have you attended one of our workshops, or tried one of our artistic activities? We'd love to see your Penwith inspired art works! Share them with us on social media - you can find us on Facebook, Twitter and Instagram