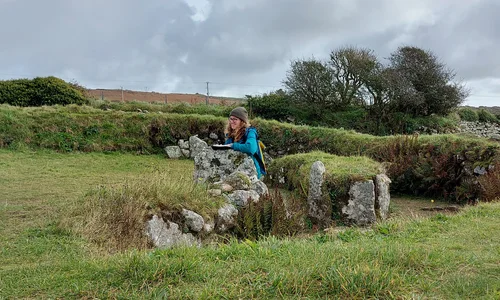 Artys ha Bewderyow
Art and Activities
One of the aims of the Penwith Landscape Partnership is to encourage everyone to interact with the Penwith landscape and its heritage in ways they might not have originally thought of. To support this, our Seeing the Landscape project encourages interacting with the Penwith landscape through art - following in the footsteps of many artists who have been inspired by this area of Cornwall. And many of our other projects have fun activities coming up - from Cornish Hedge activity packs, to archaeological trails.
On this page we will be highlighting our work with art and activities - including forthcoming events such as exhibitions and workshops, our photographic and artistic competitions, and activities you can enjoy at home.
Artistic Events
As part of our Seeing the Landscape project we will be holding a number of workshops, art walks and exhibitions. A summary of these will be shared here, with full details and registration over on our Events page.
Watch this space for details of events coming soon!
Art and Photography Competitions
Love Penwith and have an artistic side? Then enter one of our art or photography competitions! Below are details of any competitions that are running, and also information on past competitions.
Current competition
Following on from our Cornish Hedge week, we are currently holding a photography competition for Penwith hedges - celebrating the beauty of these historic structures. Click the button below for full details of the competition and how to enter:
Cornish Hedge Photography Contest details
Past Competitions
Here are details of the past artistic competitions we have held - follow the links to find out more and view galleries of the top entries.
Activities
We are pleased to be able to offer a number of fun activities related to the Penwith landscape that everyone can take part in at home.
Hedge Activities
As part of our Cornish Hedge week we now have a number of fun filled activity sheets, which can help all the family learn more about Cornish Hedges - to view and download the Activity Pack go to our Penwith Hedges page.
Family Art Activities
Sue Kinley has devised for us a number of family friendly art activities you can complete at home, inspired by the Penwith landscape - click on the links below for step by step instructions.
Share your creations with us!
Have you attended one of our workshops, or tried one of our artistic activities? We'd love to see your Penwith inspired art works! Share them with us on social media - you can find us on Facebook, Twitter and Instagram