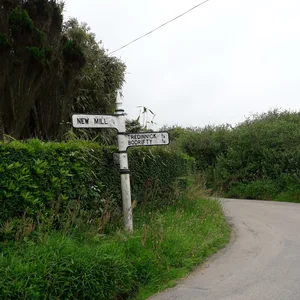 Kernewek yn Pennwydh
Cornish in Penwith
The Cornish language, or Kernewek, is found throughout the Penwith landscape - from place names to field names, its use helps record the heritage of this unique place.
Our Taking Names project aims to record where Cornish is still used in the Penwith landscape, and to share this with others. These web pages will share a range of material relating to Cornish in Penwith, including our interactive map, recordings of local tales in Penwith, suggested links for further learning, and material on Penwith's folklore.
Loveday and Tony of Kowethas an Yeth Kernewek are acting as our Para Kernewek (Cornish team), helping to record Cornish usage in Penwith, and to share knowledge of this through events. You can contact them on cornish@penwithlandscape.com, and look out for forthcoming events here and on our events page.
Mappa Kernewek kesvewek
Interactive Cornish Map
Our interactive map highlights uses of Cornish in the Penwith landscape - from place names and field names, to Cornish names for local wildlife and tales. We aim to add more detail to the map as time goes on - if there's anything you would like to add then please let us know! Click the button below to view our map.
Click here to view our interactive Cornish Map
NB The map's functionality works best on a larger screen. Clicking on the pins will bring up information on each point. On a smaller screen, click the arrows in the pop up box to view the full text and any images associated with each point. Use the plus and minus signs in the top left hand corner to zoom in and out on the map - zooming in will make it easier to click on points that are close together.
This map was created with reference to Craig Weatherhill's Place Names of the Land's End Peninsula published by Penwith Press.
Hwarvosow Kernewek
Cornish events
We aim to offer a number of events relating to the Cornish language over the course of the project. Below are some upcoming events:
Diwotti: The Bath Inn Dy'Meurth 10ves mis Genver dhe 7.30 gorthugherweyth - Come and chat in Cornish in an informal pub setting (Tuesday 10th January 7.30pm). More Tuesday evening pub sessions will follow - contact cornish@penwithlandscape.com for details
Koffiji: The Family Hangout dy'Lun 16ves mis Genver dhe 12.30pm ha pub dy Lun a-wosa - Lunchtime chats in Cornish at the Family hangout in Penzance (Starting Monday 16th January 12.30pm and every Monday after)
Speak Cornish event: At Peran Rooms, Goldsithney (Saturday 11th February) - This event will feature our Para Kernewek, Loveday and Tony, and a display on their work with the Penwith Landscape Partnership as a celebration of all they have achieved, and of course Cornish in Penwith. Book your space here.
Regular events
Koffi ha Kows – Coffee and chat sessions – monthly at a local café (restrictions allowing)
Blas a gernewek – Cornish language taster sessions (online initially)
Training sessions for businesses and organisations if requested.
If you are interested in attending any of the events please contact Loveday and Tony at cornish@penwithlandscape.com