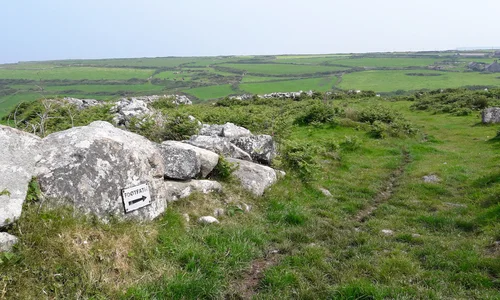 Kesstrif art Hyns an Stenoryon rag fleghes
Tinners' Way Children's Art Competition - Design our Waymarkers!
Please note that due to some individuals having problems downloading the template for this contest, we have extended the closing date to 28th November 2021 and entrants can now draw their own template - see details below!
A waymarker is something placed out in the landscape to help people follow particular paths or routes. We have a number of granite waymarkers ready to go out in the Penwith landscape, and each will bear a plaque pointing the way – and we would like you to help us design the plaques that will go on them!
We'd like a design that celebrates the Penwith landscape, particularly the landscape around the Tinners' Way - an ancient trackway that passes a lot of wildlife, farmland, great views and even ancient sites that are thousands of years old! You can find out more about the Tinners' Way on our interactive StoryMap here.)
To enter the competition complete the following steps:
Download and print out the template for the waymarker. (Please open the document for editing to allow the template to align properly.) Or, if you cannot download the template create your own - you need to draw a circle and include an arrow in the middle.
Create your artistic design within the circle template. This is the same size that the plaques themselves will be. You can use pens, pencils, paint or other artistic methods to create your design (but please don't use photographs!).
Fill in the submission form to accompany your entry (let us know if you can't download it!)
Send your designs to us! You can either scan or photograph your design (or ask an adult to), and email it to us with the entry form at hello@penwithlandscape.com, or post your design with a printed our version of the submissions form to our office at: Penwith Landscape Partnership, The Office Above the Dog and Rabbit, North Row, St Just, Cornwall. TR19 7LB. If you are posting us your entry, please write your name on the back of your design as well as on your entry form. Please note that we will be unable to return designs posted to us, so if you would like to keep your artwork do please email it to us instead!
Please ensure that all submissions are sent to us by midnight on 28th November 2021.
Some tips for designing your entry
Take your inspiration from the Penwith landscape – if you're not sure what to do, think about the thing you love most about Penwith and go from that!
Waymarking signs point people in the right direction, so it's important to incorporate the arrow in your design to help people find the way. We have included one on the template to help with this.
Keep it quite simple – very intricate designs are lovely but may not reproduce well on the waymarkers.
Prizes
The winner will have their design reproduced on our waymarkers, and will also receive one of the plaques with their design to keep.
All entrants will also receive a book including all the entries of the competition, so that everyone who enters gets their design printed.
We would also like to showcase the entered designs in an online gallery on our website, and on our social media channels. Whenever we use the designs, the artists will always be credited, and they retain copyright ownership of their work.
Downloads
Click here to download the template design for the competition
Click here to download the submissions form for the competition
Click here for a downloadable version of the competition rules.
Competition rules
The following competition rules apply:
All artworks must be your own work, and you and your parent or guardian confirm that you hold the copyright for it.
All entrants must be seventeen or under.
Entrants can submit up to three designs each.
All entries must be submitted on the provided template, or within one that you have created yourself within a circle and including an arrow – this will allow us to assess your design to see how it will fit the waymarker plaque. If you are having problems downloading or printing the template design and would rather not draw one yourself please let us know at hello@penwithlandscape.com and we can arrange for a template to be sent to you.
Please ensure you enter by the closing date of midnight on 28th November 2021. Entries received after this time will not be eligible for the contest.
All entries are to be sent by email to hello@penwithlandscape.com, or by post to Penwith Landscape Partnership, The Office Above the Dog and Rabbit, North Row, St Just, Cornwall. TR19 7LB. If sending by post please ensure you allow time for your entry to arrive before the closing date.
If sending your entry by email, please ensure that the scans or photographs are clear and bright, as we want to be able to fully see and appreciated your work!
To prevent our email system from rejecting your entry when you send it, the email size may be no larger than 10 Megabytes.
We will make no claims to the copyright of your artwork; you will retain copyright ownership and we will credit you as the artist when we use your design.
You give your permission for the Penwith Landscape Partnership to publish a reproduction of your design on our waymarkers if you are the winner. For all entrants you give your permission for the Penwith Landscape Partnership and its partners to reproduce your design in the catalogue of entries we will send to all entrants, on our websites and through digital media; and to use them without charge to promote the competition, the Penwith Landscape Partnership, or the Penwith landscape in leaflets, magazine and newspaper articles (produced by third parties), and other forms of publicity at our discretion. If your design is used in this way you will always be credited as the artist.
To support this you give Penwith Landscape Partnership (and their partners) a non-exclusive, worldwide, royalty free permission to; use, copy, modify, translate and/or adapt, distribute, publicly display by any means and in any media and create derivative works of, and copy, and distribute such derivative works of your artwork.
To accompany your artwork please complete and ask a parent or guardian to sign and return the submission form which can be downloaded above (if you have any problems let us know!). This confirms that you are the sole creator of your artwork, and confirms they have read and understood the competition rules
Any personal data submitted as part of entering this competition will be used for the sole purpose of administering the competition and keeping a record of the entries, and will be stored securely.
The winner will be determined by a panel of judges. The judges' decisions are final.
All entrants will receive the catalogue of entries by 31st January 2022.