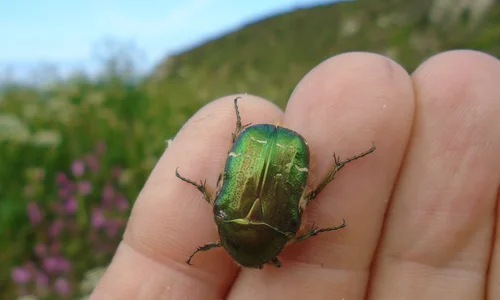 Not only does West Penwith have a beautiful landscape, we have many flower-rich pockets which are bursting with insect life on sunny June days. This week I was lucky enough to visit Cornwall's far-west coast, between Sennen and St Just, with local bee expert, Paddy Saunders.
We started walking down a valley where the stream was lined by a lush bed of tall Hemlock Water-dropwort. The white blossom was being busily visited by many worker Honey Bees, Drone Flies (a hoverfly which cleverly mimics the well-armed Honey Bees) and several solitary bees such as the Orange-tailed Mining-bee, Buffish Mining-bee and Chocolate Mining-bee.
Although most know about the social bees that live in hives, such as honey bees and bumblebees, there is less appreciation of solitary bees. The UK has over 275 species of bee, and most of them are classified as solitary as they don't have queens or workers
Paddy carefully netted these bee species, deftly popping them in a glass tube (held gently in place by a soft cloth) so I could admire them with my hand lens. It was a privilege to have Paddy point out the differences between the species, many of which look similar. However, there were no identification problems with the striking yellow and black Wasp Beetle which then landed on one of the flower heads.
A few steps further on, a loud whirring marked the arrival of a stunning Rose Chafer. This 2cm long beetle shone like a jewel, and was even obliging enough to let me pick it up. Rather quieter butterfly fly-pasts from Common Blues and a Small Pearl-bordered Fritillary added to the spectacle.
For Paddy though, the main event was the amazing range of pollinators on the great splash of yellow blooms where Kidney Vetch, Bird's-foot-trefoil and Cat's-ear carpeted the maritime grassland along the coast path. My camera and photography skills were not up to the job of capturing the beauty of the many rare and declining bees that Paddy showed me, one after another, but I could understand his excitement.
West Penwith may be one of the best places in the UK to see a range of scarce bees, which have been pushed out of inland meadows on to their last refuge in the rich heath, rough fields and coastal grasslands of coastal Cornwall.
Paddy caught a fine queen of the Brown-banded Bumblebee on the Kidney Vetch, before quickly releasing it so it could return to its nesting burrow. That large yellow and brown species is now scarce after big declines across its British range. The mining bees were here in force too, including Buff-tailed Mining Bee, which collects pollen from the Cat's-ear flowers. Many rare bees are restricted to foraging for pollen and nectar from flowers of a specific plant family or even a particular species.
Other solitary bees flying around the slopes included Small Gorse Mining Bee, furrow bees (of the Genus Lasioglossum), plasterer bees (Genus Colletes) and the Gold-fringed Mason Bee – another specialist which loves Bird's-foot-trefoil and which nests in old snail shells. We looked up the slopes to see the black, white and gold workers of the Heath Bumblebee.
Determined not to be outdone, a family party of five Chough chased each other overhead. We also spotted one of the variegated cuckoo bees (probably the Black-thighed Epeolus). This is a cleptoparasite – the female bee lays an egg in the nest cell of a plasterer bee. The cuckoo bee grub first chomps the egg or young larva of the Colletes bee, and then completes its development by living off the food-supply which the hard-working female plasterer bee has left for its own larva. There's an enormous complexity to food-webs in diverse habitats like this!
Paddy devotes his life to the conservation of Cornwall's bees and their habitats. His website Kernow Ecology has a host of information on the huge range of important bee species which occur around our coasts, grasslands, towans and moors. The Penwith Landscape Partnership benefits greatly from his expertise.
The PLP helps bee conservation in a range of ways. All of these species were found on land cared for by the National Trust, one of our partners. Cornwall Wildlife Trust nature reserves like Bartinney Downs are also very important for mining bees. We also work with many farmers and other landowners to provide habitat and food for pollinators by creating flower-rich meadows and enhancing farmland wildlife through Countryside Stewardship schemes - read about our Economy, Farming and Wildlife projects to find out more.