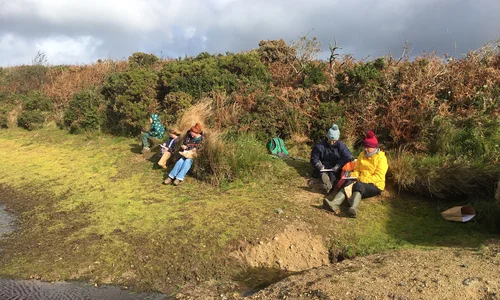 It's nearly half-term, and the summer holidays will soon be following close on its heels! As such this is an important time for families, and if you're wondering what you can all do together, why not engage with the Penwith landscape? While our volunteer tasks may not be suitable for younger members of the family, we have a great many things that you can all experience together!
At the beginning of half-term on 30th May, we're holding another one of our fab family art workshops, led by artist Sue Kinley. In the workshop Sue will guide you through making a collage inspired by the textures, details and colours of the fabulous Penwith landscape. It's free to participate and you get to keep your artwork at the end of the day; and even have the chance to get it exhibited in our summer art exhibition (more on that later)! It's great for all the family to unleash their creative side, and to provide a new perspective on Penwith. Spaces are limited, so to find out more and register click here. The workshop will be held between 11am and 4pm in the Knut, St Just.
We have also started offering a series of Penwith Circle family walks. These walks are for families that want to explore the historic landscape around the Mên-an-Tol - everyone gets a book of clues and a map they can follow, and each of the walks have a slightly different perspective too. We should be offering more walks in the summer holidays - dates will be posted as soon as we have them!
Of course, there's nothing to stop families getting out and exploring Penwith for themselves, and if you'd like inspiration of where to go our trail guides are a great start. Each one has notes on the route difficulty and what you may encounter along the way, so do have a read before you head out to make sure it's suitable for you and your family. And for those who like playing games along the way, our Penwith flowers web page can provide inspiration of the plants you can see in the landscape - how many can you spot?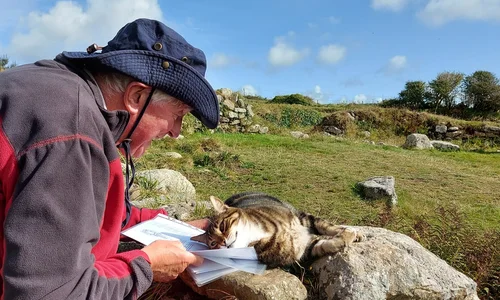 Of course, the Penwith weather is notoriously unpredictable - but if it's raining we've still got great things to do! For creative families, we've previously shared a number of arts and crafts inspired by Penwith which you can try at home - explore them on our blog here. We also have fun activity sheets you can print off and complete at home related to Penwith's Cornish Hedges; find them by clicking here. And remember, it's still possible to explore some of Penwith from home with our PLEN interactive portal so why not investigate the portal as a family and find the next Penwith site you'd like to visit? It's also great for those who might otherwise find it difficult to visit some of these wonderful places. If your family is also interested in the environment and conservation, you might all be inspired by the images of Sancreed Beacon taken by children of Mousehole School, and their words of advice for the G7 delegates - find them here.
Looking further ahead to the summer, we have a lot of to look forward to. As well as our Penwith Circle family walks, we will also be taking part in the St Buryan Rally at the end of July. We're still finalising what we'll be offering at the event but there should be something for all the family! Then, from 16th - 29th August in the Miners' Chapel, St Just, we will be holding our Seeing the Landscape art exhibition; showcasing some of the work that has emerged from our engagement with the arts and creativity throughout the programme. It will include pieces recording A Year of a Cornish Hedge by artists Amanda Richardson and Sara Bevan, top entries from the art competitions we have held, as well as pieces that resulted from our artistic workshops. It'll be free to visit and will help showcase and celebrate the beauty and inspiration that can result from the Penwith landscape. Watch this space for more information!
To keep up to date on all our upcoming events, make sure you follow us on social media - you can find us on Facebook, Twitter and Instagram. Also consider subscribing to our mailing list to receive our newsletter and information on events as we can share them. And make sure you check our Events page regularly too!
We look forward to sharing and celebrating the Penwith landscape with you and your family over the weeks to come!