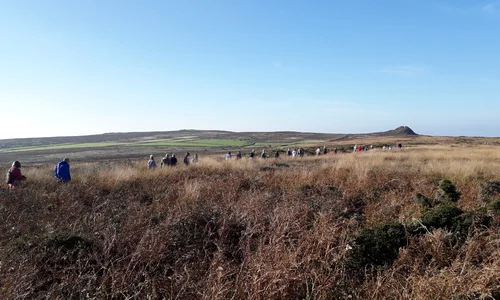 The Penwith Landscape Partnership Walking Weekend starts today, 18th October 2019 and runs into tomorrow 19th October. Join us for three guided walks exploring the beauty, heritage and folklore of the Penwith landscape. Our walks are free and there is no need to register- just turn up at the meeting point at the right time and enjoy! As a reminder the details of the three walks are:
Friday 18th October, 1.30pm - 3.30pm - Morvah, Tregaminion and Chypraze
Visit Tregaminion Chapel and Well, recently excavated by PLP volunteers; then a walk along the coast path, visiting the Chypraze Barrow and returning inland above Portheras Cove.
Meet by Morvah Church, at the start of the public footpath (TR20 8YT / SW402354). This walk is 2 miles with one steep descent and a gradual climb. Please NO DOGS, as we will be passing as a group through fields with cows.
Permission has been given to park in front of Tregaminion Manor Farm, but we'd encourage using public transport from St Just if possible.
Saturday 19th October, 9.30am-12.30pm - Zennor Church Path to Wicca
A walk along the Church Path from Zennor, covering a range of subjects including folklore, field names, ancient hedges, coffin rests, ecology and more.
Meet in front of the Tinners' Arms, Zennor (TR26 3BY / SW454384). The route is 2.5 miles on fairly level ground, with multiple stile crossings. Please NO DOGS, as we will be passing as a group through fields with cows. Parking available in Zennor Village car park (£1).
Saturday 19th October, 2pm-5.30pm - Zennor to Sperris Hill
A walk up onto Zennor Carn and across to Sperris, visiting both Quoits, and returning via Foage.
Meet in front of the Tinners' Arms, Zennor (TR26 3BY / SW454384). The route is 3.5 miles with one steep ascent, and on rough moorland paths. Dogs are welcome on this walk. Parking is available in Zennor Village Car Park for £1.
For all our walks, please arrive at the meeting point ten minutes before the start time for the walk to allow us to leave punctually. Sturdy footwear and clothing to keep you warm and dry should be worn. If you have any questions regarding the walks do please contact us on PLPinfo@cornwallwildlifetrust.org.uk or ring 01736 805300. We look forward to seeing lots of you there!
Also as a reminder, if you would like to explore even more of the Penwith countryside this weekend (and who wouldn't?), our partners the Cornwall Archaeological Society are putting on the following event, on Sunday 20th October, 11am-4pm:
CAS Archaeological Walk around Sancreed with Peter Herring. Cornwall Archaeological Society offers members site visits and walks all around Cornwall, as well as opportunities to join in surveys and digs, and an annual journal. CAS ends its walks season this year in West Penwith, at Sancreed. You are welcome to join them and follow ancient paths to see the medieval church, holy well, and hamlets, and the prehistoric hillfort of Caer Bran. By kind invitation of the owners, visit a very early monument, a quoit, with an intriguing story, told by Pete, a landscape archaeologist with Cornwall Council. Please NO DOGS by request of the landowners.
Meet at Sancreed Church NGR SW 42018 29345 (TR20 8QS) There is a lay-by for parking beside the road at Sancreed Beacon, just uphill of the Church, and a very small car park below the Church. Please wear strong supportive boots for rough ground, and clothes to keep you warm and dry, and bring a packed lunch! For more information see www.cornisharchaeology.org.uk