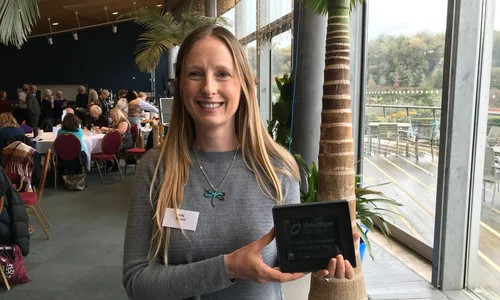 The Penwith Landscape Partnership were thrilled last week to be invited to the Cornwall Celebrates Volunteering Awards, hosted by Volunteer Cornwall and held at the Eden Project. This annual awards ceremony celebrates those who dedicate themselves to volunteering in Cornwall in a number of different areas, including health and welfare, caring for animals, and the environment.
We were shortlisted in the Host of the Year award, recognising organisations who support volunteers within Cornwall, and were very pleased to be Highly Commended for this award along with Coastline Housing (the overall category winner was the Fishermen's Mission). Holly Berwick, our Volunteer Programme Coordinator, collected our certificate and trophy from Col Edward Bolitho OBE, Lord Lieutenant of Cornwall, and Prof Kate Leyshon from Exeter University, who sponsored the category.
A massive thank you to all our team, partners, supporters, and of course, our volunteers for supporting our work and enabling us to be able to win this award- we wouldn't be able to do any of our work without you!