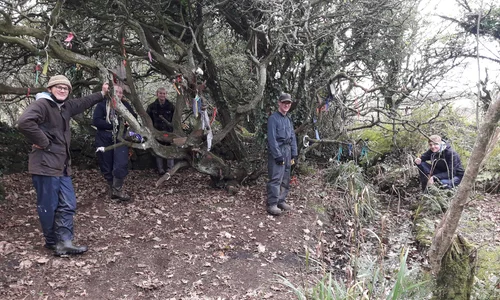 At the beginning of October, the PLP team started an exciting new project, working in collaboration with Duchy College in Camborne. Six lucky Conservation students on the Level 3 City and Guilds Land and Wildlife Technical Diploma have begun a nine-month long work placement with us, joining our team members every Monday to help with a whole range of tasks. These will include access work, vegetation clearance on some of Penwith's amazing ancient sites, archaeological surveying, wildlife monitoring, Cornish hedging, habitat management, and a lot more! The students have begun their first project working on Bartinney Downs, one of the most western of the Cornwall Wildlife Trust reserves. They have been working to clear some of the tracks leading up through the gorse and heather to the summit of the hill. In the next few weeks they will also be carrying out clearance and archaeological surveying of the Iron Age hill fort, and clearing around the Bronze Age cairns in the centre of the fort. In this photo they are at Carn Euny well, planning how to unblock a pipe causing flooding over the path.
Nick Taylor is our PLP Volunteer Coordinator, who has been working with Duchy College to make this placement possible, and of course safe for the students and the staff involved. He also led the first task. Nick said 'this is the perfect opportunity for the students to put their knowledge from their course into practice, to build up their practical skills, and to see a whole range of countryside activities being carried out. They'll also have the chance to build up connections with many different people working in the Penwith landscape, from farmers and countryside workers to organizations such as the Cornwall Wildlife Trust, the Cornwall AONB, Cornwall Council, the National Trust and many of PLP's other partners.'
We will be sharing more from the students' work over the next few months, so make sure you keep an eye on our blog for future updates. You can also receive our latest news through our social media channels – Facebook, Twitter and Instagram.