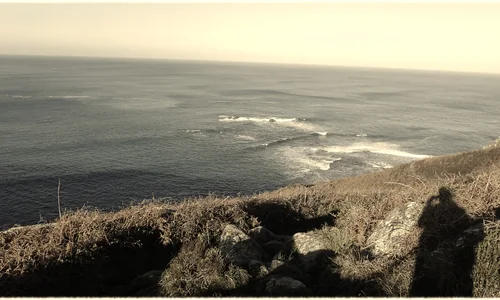 It's Halloween week, and as those of you who follow us on social media will know, we've taken the opportunity to share some spooky and creepy tales from Penwith's history- read on, if you dare...
The Tragic Lovers of Boscean
The start of the tale is familiar- two young people fall in love, but the boy's parents disapproved and packed him off to sea to prevent a marriage. One night some time later the girl heard her lover's voice calling for her, and without thinking joined him on horseback, not knowing he had been killed at sea. She soon discovered she was riding behind a phantom! One wild ride and dramatic rescue by the St Buryan blacksmith later, her fiance's spirit fled back to his grave in St Buryan churchyard, and she died the following day of a broken heart.
The Pirate Wrecker of Porthledden
Have you heard of the Pirate Wrecker of Porthledden? A former pirate captain, he was abandoned by his crew on the Penwith coast for being too violent(!). After buying property in Penwith he made his living by deliberately luring ships to wreck on the coast, murdering the crews and taking the plunder for himself. But such evil deeds have the their own reward, as on his death bed the pirate lay shrieking while the spirits of those he had murdered sailed to the coast in a ghostly pirate ship and dragged his soul to hell.
Wild Harris of Carnegie
If you visit Castle an Dinas at night you might encounter the ghost of Wild Harris of Kenegie- a local Lord who was killed after being thrown from his horse. After his untimely death his spirit often appeared around Gulval terrifying the local residents, until a Parson settled his ghost by giving him the task of counting every blade of grass within Castle an Dinas nine times- keeping the restless soul occupied for years to come...
The Ghost of Pendeen
If you've ever seen a lady in grey wandering the cliff-tops carrying a rose, then you might have encountered the ghost of Pendeen. This lady was engaged to a smuggler who she promised to marry if he brought her a rose on Christmas day, but she really liked a local Navy captain and informed him of the smuggler's movements. The result was a fight between the two that left them both fatally wounded, and now the lady's ghost wanders the clifftops holding a rose in penance.
Spirits of Trencrom Hill
In the last of our Halloween tales we're heading to Trencrom Hill, on the outskirts of St Ives. The hill has long been associated with myths and legends- stories tell of the spirits of the Iron Age inhabitants stalking the hill at night, whereas Spriggans protect the hill's alleged treasure. While some describe these as fairies, others believe these are the ghosts of the giants that once lived in Penwith and who are still protecting their home.
We hope you enjoyed our Halloween tales! If you have any folklore or spooky stories relating to Penwith then do please let us know as part of our work is collecting such stories for posterity. If you would like to find out more about our work with Cornish language and folklore then click here for information on our Taking Names project.